Windsor Invisalign For All Ages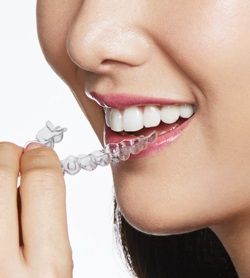 Having braces on your teeth can be one of the most daunting things. However if you are in Windsor Invisalign may be a great solution to avoid uncomfortable and unsightly braces. Enhance Dental will work with your teeth to give you that perfect smile.
What is Invisalign?
Invisalign refers to clear aligning plates that help your teeth form into your perfect smile. They are affordable and great for a working adult as well as children. They have revolutionised the field of Orthodontics, the better alternative to wearing braces. Invisalign is designed to be invisible whilst working to align your teeth on a daily basis. If you'd like to know more information about Invisalign, Enhance Dental would love to talk to you about it.
Great Tips For Dental Hygiene – Advice From Your Dentist
There is a right way and a wrong way to floss.
More and more things in life have mixed messages. Listen to this loud and clear, TOO HARD doesn't mean CLEANER, it means you are damaging your gums. Methodical cleaning of your teeth is much more efficient than pressure. If you floss your teeth every time you can you will have longer lasting gums and teeth construction.
A chipped tooth is vulnerable to tooth decay, no matter the size.
When you really think about it, a tooth is made up of 3 layers. These layers are enamel (protective coating), dentin (softer inner layer) and pulp chamber (nerves and blood vessels). If you chip the enamel, you have created a weakness. Bacteria is very opportunistic. The bacteria produces acid and the exposed layer lets it in fast. Get your chips fixed ASAP.
Your dental health is a major factor in your body's overall health.
An interesting fact about your oral and body health is that there are links between your dental health and major health issues. Some studies have seen a link between gum disease bacteria and heart disease. So by not brushing your teeth, you could also be risking your life. Food For Thought.
Contact Enhance Dental for more information about what they can do for you and your teeth.