Dental implants
Trust Enhance Dental for all your Dental implant needs and breakthrough keyhole procedure*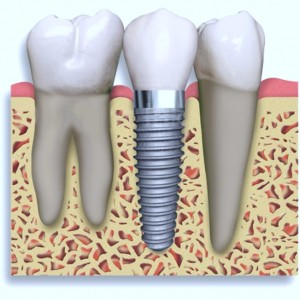 Dental implants is a permanent tooth replacement method that closely resembles natural teeth. Not only is the top portion replaced but also the root that securely holds the tooth in place. The 'root' is made of titanium and is designed to fuse to jaw bone as a secure foundation. Dental implants often look, feel and function like natural teeth.
Dental implants can often be used to replace a single tooth, several teeth or all of your missing teeth as shown below. You may have heard about 'All on Four" to replace all your teeth with dental implants. This simply means four implants are used to usually replace fourteen upper or lower teeth. However each case is individually customised to your particular circumstances and less or more implants may be recommended.

Digital 3D X-rays
Enhance Dental will refer you for digital 3D CBCT X-ray (cone beam computed tomography X-ray) and OPG (panoramic) X-rays to determine suitability for this ground-breaking minimally invasive 'key hole' dental implant procedure. This virtually pain free method involves a 3D Scan to create a 3D model of your jaw, existing teeth and gums. This amazing technology is incredibly accurate, avoids the use of any gooey impression materials and prevents gagging.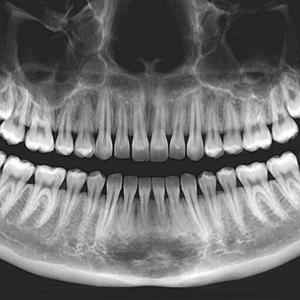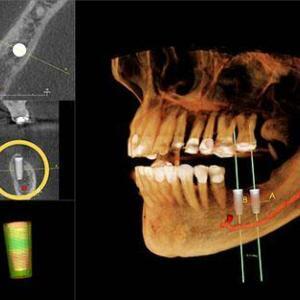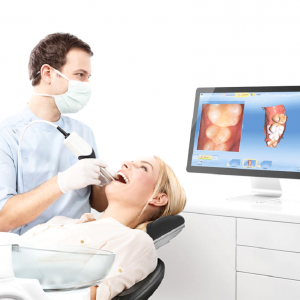 Customised 3D designed template
Your best possible new teeth and smile are carefully planned utilising global leading computer guided implant software and 3D printers. The 3D treatment plan will be prescribed by Dr Joseph Paino and designed in conjunction with an advanced digital treatment planner at MoreDent in St Kilda Rd Melbourne to ensure the final results accurately matches the plan. Your 3d printed template guide is then created. This fits onto your teeth and allows the most accurate and least invasive method of inserting your implant via an extremely accurate keyhole procedure. This is the best way to position the implant exactly in the best possible spot, maximises the healing time and only takes one visit to perform. Virtually no pain, no flap surgery and no stitches required!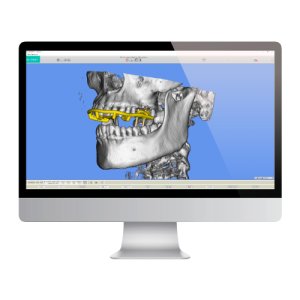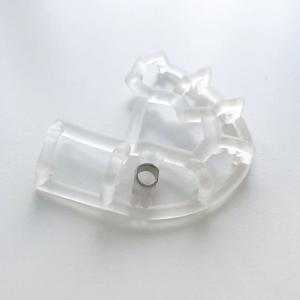 STEP 3
Minimally invasive keyhole
guided implant procedure
Dr Joseph Paino will then perform an atraumatic guided keyhole implant procedure by using the 3D template guide (surgical guide). The guided keyhole procedure is minimally invasive meaning a virtually pain-free procedure, a quicker recovery and minimal post-operative discomfort. In comparison, traditional implant surgery requires a lengthy, invasive surgical procedure and stitches, sometimes under a general anaesthetic. There is now no reason to take these additional surgical steps and undergo a much more complex surgical experience.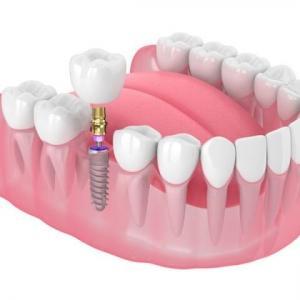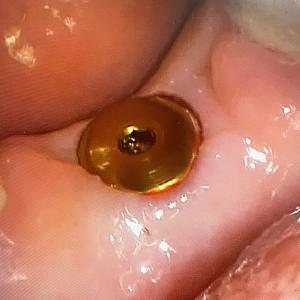 Actual Enhance Dental Patient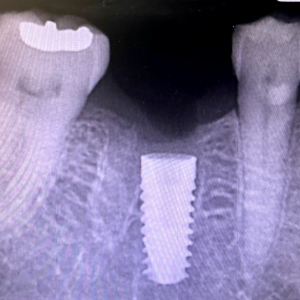 Actual Enhance Dental Patient
Your New Tooth and Smile
After the implant adheres to the bone a dental implant crown will be securely attached via a connector called an abutement with a precision retained screw to create your new tooth or teeth.  As we want you to have the best results possible, usually it is best to delay fitting the permanent implant crown on the day of the procedure. Don't worry as a temporary tooth will be provided if required.
Dr Joseph Paino, the principal dentist at Enhance Dental, is passionate about the latest digital technology to replace missing teeth with dental implants. "With the advent of this amazing keyhole technology,  state-of-the-art dental implants combined with modern dental procedures has given us the ability to permanently replace a missing tooth or teeth that often improves your appearance, comfort and function."
Benefits of dental implants
Improved Facial Appearance
When teeth are lost, ongoing shrinkage of the jawbone often occurs and this could makes the face look older or sunken in. Dental implants can usually slow or stop this process. Dental implants may help preserve the integrity of the facial structure and the associated jaw bones. This may result in a more youthful and improved facial appearance.
Improved Comfort
Dental implants often eliminates the pain and discomfort of removable full or partial
dentures
. Since dentures sit on top of the gums and jawbone, continuous shrinkage of the jaw bone alters the fit of the denture resulting in slipping or rocking of the dentures. Exposed nerves, irritation or ulceration of the gum tissue may add to the discomfort. Implant supported replacement teeth are closer to natural teeth because they are anchored securely to your jawbone. Gum irritation, ulcers and the pain of exposed nerves that may be associated with conventional full or partial dentures are often eliminated. 
Eat Better
Dental implants can restore chewing efficiency comparable to that of natural teeth. Unlike
dentures
they do not move when you chew on them. This helps you to eat your favourite foods with confidence and without pain. A full upper denture covers the palate of the mouth and reduces the ability to taste foods. With dental implants the palate is naturally exposed. This allows the wonderful tastes, textures and temperatures of food and drink to be appreciated and enjoyed.
Confidence
Dental implants can eliminate the numerous embarrassing inconveniences of removable partial and full
dentures
. You will eliminate the use of gooey denture adhesives that may be used. You may feel much more confident knowing that you never need to cover your mouth when you laugh or smile, for fear that your teeth could pop out or fall down.
Protect Your Remaining Natural Teeth
Dental implants may be more appropriate than a
bridge
for the replacement of one or more adjacent teeth. With conventional bridgework, the teeth surrounding the missing teeth must be ground down. Dental implants eliminates the need to modify these teeth.
Frequently asked questions
What is the success rate of dental implants?
Dental implant success depends on several factors including the quality and quantity of the bone available at the site, the patient's oral hygiene and overall general health. The consensus is that a dental implant carries a success rate from *95% to 98%. Certain medical diseases including
gum disease,
smoking and uncontrolled diabetes may contraindicate implant treatment. Your Enhance Dental dentist will determine if you are a candidate for a dental implant after a careful evaluation of your dental and medical health history. If your bone quality or quantity is insufficient for an implant to be done, you have the choice of  being referred to an Oral surgeon to see if bone grafting is a suitable option for you. Alternatively a
bridge
or
partial denture
may be a suitable option.
*REFERENCE:
1) Long term clinical performance of 10 871 dental implants with up to 22 years of follow-up: A cohort study in 4247 patients
David French DDS, Dip.Perio,Ronen Ofec DMD, MSc,Liran Levin DMD, FRCD(C)
2) Esposito M, Grusovin MG, Willings M, Coulthard P, Worthington HV (2007). "The effectiveness of immediate, early, and conventional loading of dental implants: a Cochrane systematic review of randomized controlled clinical trials". The International Journal of Oral & Maxillofacial Implants 22 (6): 893–904.
How long does it take?
The complete dental implant reconstruction process normally takes from 4 to 6 months. Faster methods are being developed but are only suitable in specific circumstances. Up until the dental implant is ready to be permanently connected to a
crown
,
bridge
or removable
denture
a temporary tooth or teeth can be placed over the dental implant(s). Time is needed for your jawbone to grow around dental implants and for your replacement teeth to be made. Procedures vary, but it usually includes one or more surgical steps and then the restoration is fabricated over two or more appointments.
What is the cost of dental implants?
The fee for tooth replacement with dental implants will depend on several factors, including the number of teeth being replaced and the number of dental implants required to support your replacement teeth. Some additional procedures may be required prior to or at the time of placement of your dental implants to help improve the long-term health of your dental implant. Typically, there is a fee for the surgical procedures and a separate fee to attach the posts (called abutements) and construction of your replacement tooth. To obtain a specific fee estimate, call Enhance Dental on (03)9533-8488 for a consultation about your individual requirements.
Is there pain with a dental implant?
With the advancements in pain relieving medications and a minimally invasive atraumatic keyhole techniques we strive to make your dental implant procedure as comfortable and as pain free as possible.  Local anaesthesia is usually all that is required for a virtually pain free procedure, however 
dental sedation
(sleep dentistry)  or general anaesthesia may be  possible if you have dental phobia. Your Enhance Dental dentist will assess your needs and also prescribe medications to ease any pain or discomfort that may occur after the procedure.
Who is a candidate for dental implants?
If you are missing one or more of your teeth due to injury, disease or decay, you may be a suitable candidate for dental implants. If one or a few teeth are missing, dental implants in conjunction with a crown or bridge may be able to replace those teeth. If all or most of your teeth are missing, then dental implants may be placed to replace a loose fitting full or partial denture. Adequate bone in your jaw is needed to support the dental implant(s) along with healthy gum tissues that are free of gum disease. If you have inadequate jaw bone or the sinus in the upper jaw is too close, often there are bone grafting methods or a sinus lift available via referral to an Oral surgeon. Certain diseases (such as uncontrolled diabetes), smoking or medications may contraindicate dental implant treatment. Your dentist will determine if you are a candidate for dental implants after a careful evaluation of your dental and medical health history.
For an informative consultation about dental implants to replace a single tooth, several teeth or all of your missing teeth,
call our very experienced and caring team at Enhance Dental on (03)9533-8488
*Please note, as every situation is unique, the images shown cannot represent a guarantee of outcome and not everyone is suitable for a keyhole procedure. Any surgical or invasive procedure carries risks. Before proceeding, you should seek a second opinion from an appropriately qualified health practitioner. ©copyright