Porcelain and zirconia crowns
Trust Enhance Dental for all your porcelain and zirconia crown requirements.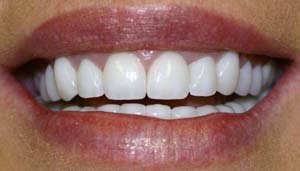 Actual Enhance Dental patient after receiving upper and lower Porcelain Crowns.
Porcelain or zirconia crowns can be used in many situations to fix teeth in need of structural or cosmetic improvement.
If you have a damaged tooth that is cracked, fractured or severely worn a porcelain or zirconia crown is often required. A porcelain or zirconia crown is also considered if your tooth is badly decayed, has a large broken or lost filling, is starting to develop cracks/sensitivity or has had root canal treatment.
The example above shows old amalgam fillings that are deteriorating. The middle tooth (first molar) was starting to become sensitive when chewing hard or grainy foods. This is often the case when the thin enamel walls start to flex and eventually fine hairline cracks develop. If the sensitivity is ignored often the thin enamel breaks away. This is called Cracked Tooth Syndrome. If the crack travels below the gum line then the tooth will need to be extracted. A better solution is to not ignore the sensitivity on chewing and strengthen the tooth before it has a chance to crack below the gum line. Either a crown (for maximum strength) or an overlay restoration ideally made out of ceramic material such as porcelain or zirconia is an excellent method to prevent the crack from propagating and leading to tooth loss.  The outer teeth had no symptoms, had thicker remaining enamel so white resin filling were used.
Porcelain or zirconia crowns are also useful for many cosmetic dental needs. They can be used to fix many aesthetic or cosmetic issues including deep discoloration and large unsightly fillings to make your teeth appear brighter, straighter and more symmetrical. Porcelain crowns can even help you with chewing or speaking concerns that may result if a tooth is damaged.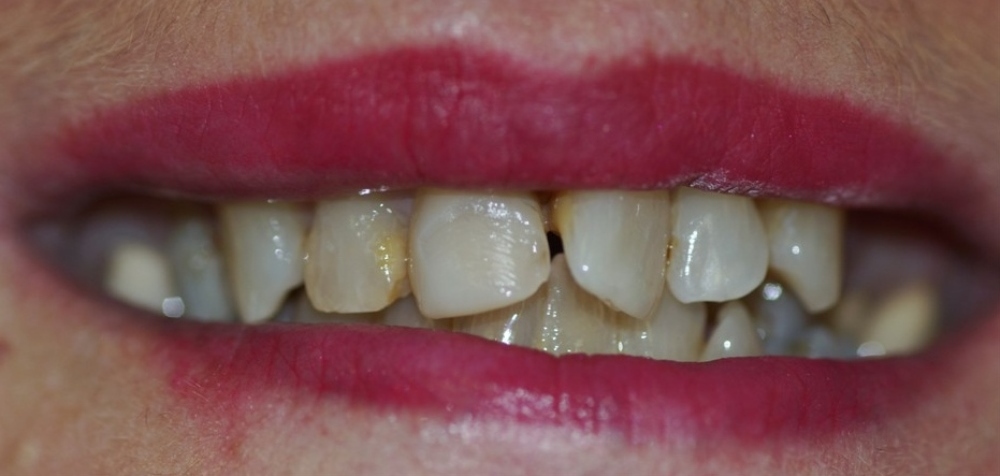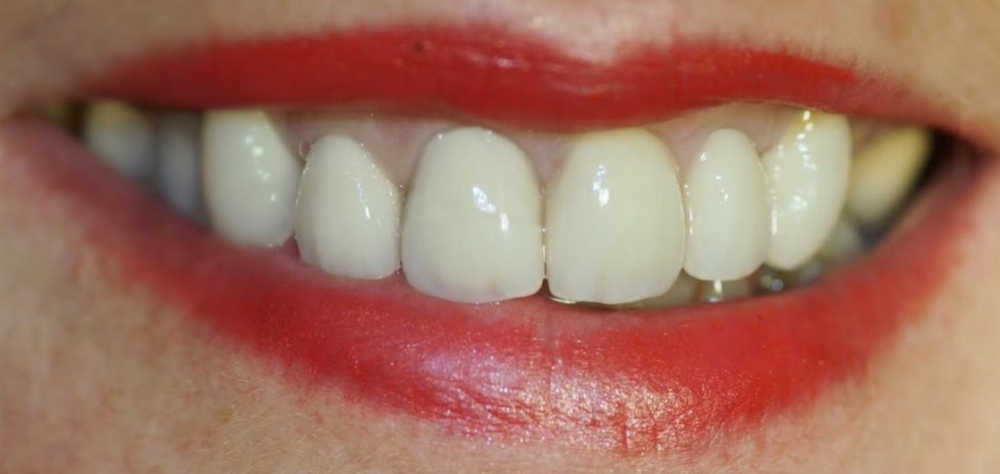 Porcelain crowns on the front six upper teeth has totally changed the appearance of this crooked smile. Note how the edges of the teeth now follow the curvature of the lower lip to enhance the hidden beauty of this smile. (Actual Enhance Dental patient)
Dr Joseph Paino explains "Unlike a porcelain veneer, a porcelain crown wraps around the entire tooth including the front and back surfaces. This is highly beneficial if the health of your tooth is compromised. Enhance Dental is proud to be at the forefront of porcelain crown technology".
What is the procedure?
After a consultation with our highly skilled Enhance Dental dentist your tooth is carefully prepared. Precise impressions and measurements are made to customise the porcelain or zirconia crown to accurately fit your affected tooth.  Our porcelain crowns are meticulously crafted with the highest standards by our long term Melbourne dental laboratory which provide individual custom shading. The outcome is a beautiful long lasting porcelain crown with a lifelike appearance that blends with your natural teeth and is usually completed in only two visits.
What material is used in porcelain crowns that's metal free?
The inside surface of porcelain crowns that are metal free is made of  Zirconia. Zirconia can also be used without the porcelain coating when maximum strength is needed. This is know as a monolythic zirconia crown and is now the most popular method for back teeth at Enhance Dental. This material is one of the most technologically advanced materials available. The Zirconia is formed into its correct shape with a highly sophisticated milling machine from a scanned computer cad cam model of your tooth.  Being metal free, Zirconia crowns do not have that all too common black or silver line near the gum and there is no risk of metal allergies. Zirconia is one of the strongest ceramic materials used inside porcelain crowns and will give your tooth a long lasting, lifelike appearance.
Porcelain and Zirconia crowns can dramatically improve the appearance, function and strength of your tooth and help it last lifelong. Porcelain and zirconia crowns usually last decades with proper care and good oral hygiene.
For an informative consultation regarding your individual needs about porcelain crowns including a tailored treatment plan, call our highly skilled and caring team at Enhance Dental on (03)9533-8488.
*Please note, as every situation is unique, the image shown cannot represent a guarantee of outcome. Any surgical or invasive procedure carries risks. Before proceeding, you should seek a second opinion from an appropriately qualified health practitioner. ©copyright