Phillips Zoom WhiteSpeed Teeth Whitening – Zoom 4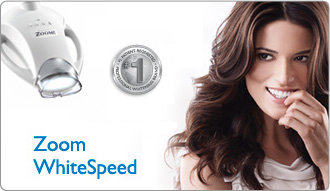 Enhance Dental is proud to offer the brand new Philips Zoom WhiteSpeed Teeth Whitening.
Also known as Zoom 4 Teeth Whitening, it is a scientifically advanced teeth whitening procedure applied in-surgery and is ideal for anyone looking for immediate results.
Philips Zoom WhiteSpeed has the most advanced LED whitening technology from Philips, the results are even better than ever. Philips Zoom WhiteSpeed is an effective and safe way to whiten teeth up to eight shades.
Unlike older Zoom Teeth Whitening systems (e.g Zoom 3), the brand new Philips Zoom WhiteSpeed (Zoom 4) is the only Zoom Teeth Whitening system with LED technology that has variable intensity to maximize patient comfort.
Although other non-professional whitening products may harm your teeth and gums, using Philips Zoom WhiteSpeed Teeth Whitening with Relief ACP (Amorphous Calcium Phosphate) and Fluoride can improve and protect your teeth enamel by adding luster, reducing fadeback and rebuilding enamel.
If you want to safely whiten and brighten your teeth, trust Philips Zoom WhiteSpeed Teeth Whitening with our highly experienced Enhance Dental trained professionals.
[easy-pricing-table id="4674″]
We only use very experienced professional dentists to perform your Philips Zoom WhiteSpeed Teeth Whitening procedure with accredited safe products approved by the Therapeutic Goods Administration. (TGA)
All options are subject to teeth whitening suitability. A dental examination and clean is recommended prior to teeth whitening. To secure your teeth whitening appointment a $100 deposit is required.
* Whiten for life package (option 3) includes free whitening gel as long as you make an appointment for a check up and clean every 6 months at Enhance Dental.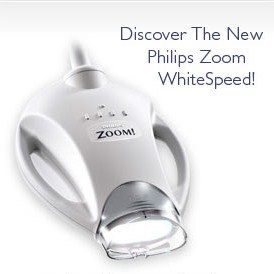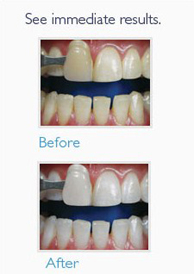 In-surgery Philips Zoom WhiteSpeed Teeth Whitening
Click on '+' below for more details
Why do my teeth discolour?
Your lifestyle and the aging process can stain and darken your teeth. The enamel surface is porous allowing molecules in food or drink to get trapped in it.  Many things we do can contribute to stained teeth such as coffee, tea, soft drinks, red wine, some medications, certain foods or smoking.
What is the Philips Zoom WhiteSpeed (Zoom 4) Teeth Whitening procedure?
The Philips Zoom WhiteSpeed in-surgery Teeth Whitening System at Enhance Dental is a revolutionary tooth whitening procedure. It's safe, effective and fast. In just over an hour, while you are relaxed or enjoying a cinema style movie your teeth could be whitened an average of eight shades in your lunch break! It has been featured in the media on shows such as Extreme Makeover and Today Tonight. A scientifically formulated, pH balanced  Hydrogen Peroxide whitening gel is carefully applied to your teeth. This is activated by Zoom 4 technology that emits the optimal LED light spectrum to accelerate and enhance the whitening results with no compromise to safety. As the hydrogen peroxide breaks down to oxygen it causes the release of long chained molecules that is found in food, drink and cigarettes that stain enamel (chromogens). The result is brighter and whiter teeth.
What is the Zoom home teeth whitening procedure?
Our safe and effective home tooth whitening system involves taking accurate impressions of your teeth and supply of professionally made custom fitted whitening trays. Under our supervision and direction we provide you with a gentle whitening gel that is used in the custom fitted whitening trays that is worn over your teeth. You can whiten your teeth comfortably at home either while you sleep with our Night White System or for only half an hour per day by using our Day White System. This method is safe for your teeth and gums under our supervision and the results are noticeable generally within several days.
Can I trust Enhance Dental to whiten my teeth effectively and safely?
Enhance Dental has over 25 years experience in teeth whitening and has kept up with all the technological methods and advancements to ensure you get the safest and best possible results that teeth whitening can offer. The Australian Dental Association believes most Australians are not aware of the risks associated with teeth whitening treatments from hairdressers, beauticians and other untrained individuals who do not have the professional training or experience to properly determine a person's suitability for teeth whitening. Having your teeth whitened by anyone other than a dentist is risky and it increases the likelihood that you may suffer permanent damage to your teeth and mouth. At Enhance Dental we ensure only professionally trained dentists will assess your suitability and offer scientifically researched teeth whitening treatments.
Dr Joseph Paino explains "Unlike supermarket products the accuracy of the custom fitted trays and the correct concentration and consistency of the Philips Zoom WhiteSpeed gel helps achieve the safest and best possible results."
If you have an important occasion coming up soon or simply want the comfort and convenience of whitening your teeth in the shortest time possible then Philips Zoom WhiteSpeed Teeth whitening is the perfect choice.
As the above teeth whitening packages are so popular telephone Enhance Dental on (03) 95338488 to secure your teeth whitening appointment with only a $100 deposit. Please allow at least 48 hours notice if your appointment needs to be altered.
Please note, as every situation is unique, these images and video shown cannot represent a guarantee of outcome. Any material risks associated with your specific dental situation will be explained during your consultation at Enhance Dental. ©copyright