South Melbourne Invisible Braces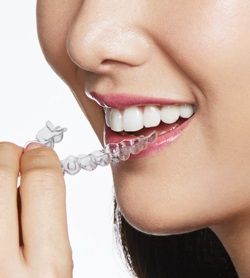 Without a doubt, your smile is one of your best features. Making a first impression is extremely important for you and your family. If you have teeth that aren't straight, gapped or out of alignment, Enhance Dental has the tools, skills and staff to create a masterpiece inside your mouth. Get one of the best South Melbourne Invisible Braces dental treatment available on the market today, Enhance Dental.
What is invisalign or invisible braces?
Invisalign or Invisible braces is a series of digitally printed clear aligners that can gradually straighten teeth. Your smile is one of the first things people see when you meet them. If you have a perfect smile, you have no confidence issue about your teeth. However, if you do have a problem with your smile then there is several ways to straighten your smile such as braces or Invisalign. However, for many gone are the days of a mouth full of metal and rubber bands. The new age of smile and orthodontics is here for you to develop your perfect smile. Invisible braces or Invisalign has revolutionised the smile straightening industry, putting smiles on faces around Australia and the world. Enhance Dental use this revolutionary method to straighten and potentially improve the health of  your teeth. Book your appointment today and get a great smile for all to see.
About Enhance Dental
At Enhance Dental, you are in the hands of Dr Joseph Paino. He is a 30 year veteran of the dental industry. He is passionate about dentistry and orthodontics taking his knowledge and expertise and applying it to his patients' mouths. The Enhance Dental nurses are also highly trained in helping to provide you with optimum care and comfort. You are in the hands of people that care about you getting the best results possible with any dental procedure. They will be there every step of the way. From Cosmetic Dentistry to root canals and of course Invisalign at the best possible prices, Enhance Dental can help you achieve a beautiful smile and really healthy teeth.
For more information about how to get your teeth straightened with Invisible braces (Invisalign), contact Enhance Dental. They will look after your mouth and put you at ease.