Dental finance
We now offer Easy and Flexible Interest Free finance*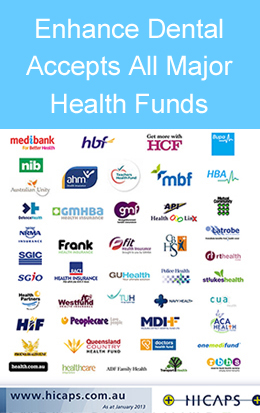 Enhance Dental has helped thousands of people get their dental treatment started immediately by providing many convenient ways to pay.
1) HICAPS (instant health insurance claims on the spot)
2) EFTPOS
3) Cash
4) Mastercard
5) Visa
6) American Express
7) Interest Free Payment Plans
8) Extended Payment Plans
Only gap payments are required if you have private dental health insurance with any of the major health funds including BUPA, Medibank Private, NIB, Frank, MBF, SGIO plus many more. Simply use our HICAPS machine for instant on the spot claims. This equates to excellent value for money.
If you need dental treatment straight away don't worry, Enhance Dental's Interest Free and flexible payment plans can help you start your dental treatment immediately and pay for your treatment gradually. We pride ourselves on offering the highest quality service that ensures your dental treatment lasts.
Payment Plans
We accept all the major Health Insurance Cards and allow convenient payment plans. For more details click here to see our Interest Free and extended payment plan options for treatments from $300 to $40,000*.
If you are considering Invisalign treatment then click here to see our Invisalign fees we have a great Interest Free Finance options that best suites your needs. Click Here to find out more.
Payment Plan Benefits*
The ability to get any treatment you need, when you want it
A choice of Interest Free and extended payment options
Access to finance the whole family can use for ongoing treatment without having to reapply
A convenient way to pay for elective treatment, essential care, 'gap' payments and treatments not covered by insurance
One simple statement and monthly payment for all your purchases
One-time only application on Revolving Line of Credit. No need to reapply for additional treatments
A variety of payment methods to suit your needs including direct debit, by mail or in person at selected banks and ATM terminal


*To approved applicants
If you need dental treatment straight away, Enhance Dental will do everything possible to have a dental finance solution tailored to your needs
For more information about all our dental finance packages and easy payment methods please call our informative staff to arrange what best suits your needs on (03)95338488.