Invisalign treatment guide download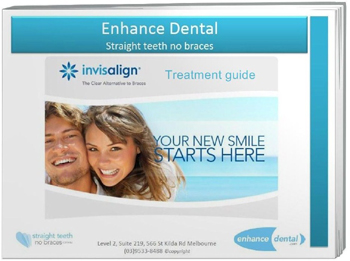 Our Invisalign treatment guide is 24 pages of very comprehensive information and includes the cost of Invisalign, before and afters and so much more.
Please enter your details below to receive your free Invisalign treatment guide.
Invisalign (Straight teeth – no braces) may seem straightforward. However, most dental patients who are considering this treatment do not know what the treatment is really all about.
Our treatment guide goes a long way in explaining many of the intricate details that's involved in getting excellent results. It also helps unravel  many features about Invisalign you may not have been aware of.
FOR OUR LOWEST INVISALIGN COST EVER AND THE BEST PRICES IN AUSTRALIA CLICK HERE
Call Enhance Dental today on (03)9533-8488 for your no obligation Free Invisalign consultation valued at $86