Invisible Orthodontics

Does it really exist?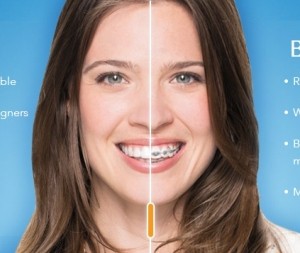 If you are trying to make your smile better, some people might advise to straighten your teeth. 
It was once very visible as many people had braces. Some people call braces "train tracks" and this was usually considered quite an unattractive method. It often involved bulky metal brackets, wires and elastic bands.
So is there ways to straighten teeth invisibly and does it really exist?
Are there other options to straighten teeth invisibly? 
In order to make it Invisible, lingual Orthodontics or Lingual braces was invented and this helped to hide the "train tracks" at the backs of the teeth. Unfortunately this method is often very comfortable, may significantly alter your speech and usually the most expensive option.
Another option involves ceramic brackets bonded to the front of the teeth. Unfortunately this method is still quite obvious as a wire needs to connect to each bracket and it can still be fairly uncomfortable as the brackets are quite bulky.
I don't want metal, ceramic or lingual braces. What else can be done to straighten teeth? 
With the advent of modern technology Invisible Orthodontics or Invisible Braces has come of age. One of the most common methods that uses the latest type of technology is called Invisalign. Although Invisalign is not totally Invisible, as the picture demonstrates, they are almost impossible to detect.
Invisalign is used to gradually straighten your teeth from where they are to a smile you can be proud of, all without being hardly noticed by anyone and is one of the most comfortable methods available.
Enhance Dental has been offering this amazing solution to hundreds of their customers every year since 2002! It is one of their most popular Orthodontic treatments available.
If you are looking for someone who does this type of orthodontic treatment Dr Joseph Paino from Enhance Dental could help you. He has helped hundreds of residents in  South Yarra, Toorak, Prahran, St Kilda, Sth Melbourne, Albert park, Middle Park, Windsor and beyond to get the smile they want every year.
Why Choose Enhance Dental?
Having your teeth looked at by any dentist is nerve-racking. It's a blessing to have a dental practice like Enhance Dental to work on your teeth. They know that it's scary and a mental hurdle for a lot of adults, not just children. This is why they employ modern virtually pain free techniques to make the experience more pleasant.
Dr. Joseph Paino, the main dentist at the practice, has helped thousands of happy clients. He uses the latest in techniques and skills to give you an experience that is likely to solve almost any dental issue.
The team at Enhance Dental offer general dentistry, porcelain veneers, cosmetic dentistry and Invisalign. Whatever your mouth and smile needs, the Enhance Dental team has the skills and knowledge to do it, as painlessly as possible.
For more information about what they can do for you, contact Enhance Dental today.